A statement of purpose is not simply a summary of your dreams and aspirations as presented to the admissions board. In fact, if you are a student that takes this approach, you are more likely to bore than impress your audience.
To get an effective statement of purpose written, aim at convincing the jury that you are fit for the institution and demonstrate confidence in your skills. We dedicate ourselves to ensuring that as a student, you meet the qualifications for joining the institution of your choice. In this guide, therefore, we compile information about how to best write a statement of purpose.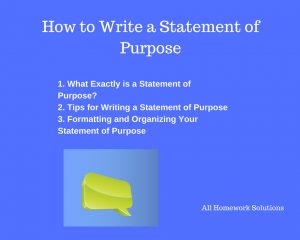 What Exactly is a Statement of Purpose?
A statement of purpose is widely regarded by institutions as part of the application process. This piece of writing stands in as a student's resume to the admissions board, giving them insight about why they wish to study that particular subject, their passion, accomplishments, and any experience in the field. This differs from an application essay in that it is shorter in form.
At All Homework Solutions, we aim to make your work easier by providing writing services for you as a student. Whether it is a statement of purpose, application essay, or any other piece of writing, we will put our best foot forward to ensure that we deliver quality to you as the student.
Tips for Writing a Statement of Purpose
The following are some tips you can use when writing a statement of purpose:
Simple, direct language
If you peruse through statements of purpose on the internet, you will come across different approaches to this piece of writing. However, one thing that will stand out is the type of language used. The key to making yours unique, however, is originality and confidence in your abilities.
Underlying philosophies
While the instructions on what to write in your statement of purpose may be presented to you in the form of topics, there is usually an underlying philosophy that you should aim to demonstrate. You must answer why you want to continue with your educational journey and what motivates you.
Drafting the statement of purpose
As a student, it may be wise to draft a statement of purpose and find a way to tailor it according to the requirements of each school that you apply to. Be careful, however, and make sure you understand the philosophies of each institution you apply to and how you can fit into the institution.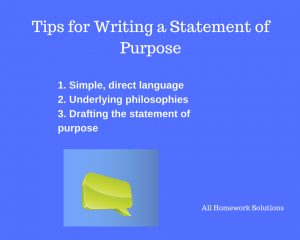 Formatting and Organizing Your Statement of Purpose
Drafting the statement of purpose is the pathway for drawing inspiration and brainstorming ideas. This should be done early, way before the deadline as it will give you time to make mistakes, learn and polish your statement of purpose.
Once your draft is done, it is important that you ensure your statement of purpose is divided into the following parts:
Introduction
The introduction, just like in any other piece of writing, is the opening to your application. Here, explain your interests and motivations to the admissions board. Through your interests, the board understands your character and shows them the reason for your interest in continuing your studies. However, this is not an autobiography, and you should remember that always.
Summary
This is much like the main body of the statement of purpose as it is the part in which you expound on your undergraduate and graduate career. Talk about any research and projects you have been involved in, the results of these studies, the names of those you worked with, your sources, and any other relevant issues.  
If you are proceeding to graduate school, talk about the scholarly works you have undertaken and talk about your experiences, especially in the same field as this brings an addition to the school you are applying to, increasing your chances of admission.
Recent activities
This section is meant to help you as the student, talk in-depth about projects you undertook. You should talk about your roles and responsibilities as part of a team, your experiences, lessons, and accomplishments, and how all these contributed to your motivation to pursue the graduate career in question.
Academic interests
This is where you showcase your knowledge of what you want to study by showing that you understand the discipline. You can do this by identifying an issue in the field then linking it with modern theory.
Show your engagement by researching on professors and departments that may come in handy according to what you plan to study or what you are working on, who knows; you may eventually work with them.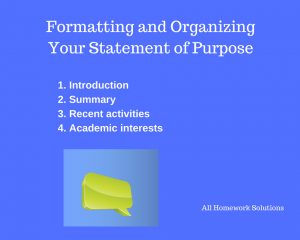 If you still have questions regarding statements of purpose or would like to engage us as you write yours, we are here to provide the best of services to you.
Do you need help with this assignment or any other? We got you! Place your order and leave the rest to our experts.