Writing a masters literature review can be such a daunting task for Masters students. This is common when they are writing their masters dissertation literature review.
A graduate literature review comprises a collection of information from other sources. These sources include journals, websites and, online books.
A masters literature review is a summary of information from collected sources that have been compacted. This information is organized and restructured incorporating both the new and old information. A literature review often gauges the intellectual progression of the specific subject. A masters literature review is commonly used by professionals to keep them up to date with information in a particular field.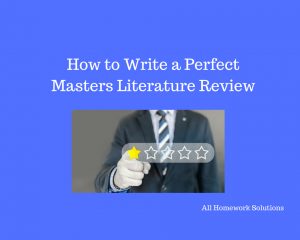 To get started:
Seek clarification from your supervisor
Any issue arising such as the number of sources to use, whether to use subheading or whether to summarize your thoughts using a common theme.
Read other literature reviews that have been written similar to your draft
These reviews are readily available on sites such as All Homework Solutions that are equipped with search engines to enable you to get the best out of your research. This helps in evaluating the themes that your graduate literature review will revolve around.
Narrow down your topic
This is to limit the number of books that you will read. Your supervisor will be of much help because of their experience in the field and can offer recommendations on the books to use.
Evaluate and exhaust all your sources extensively
Sources in a master's literature review differ from one field to another, for example, sources used for medical literature review must be current as they constantly change whereas history literature review must put into perspective trends over a period.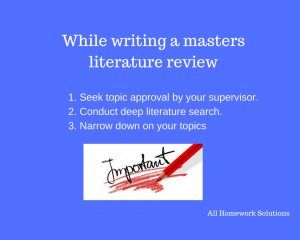 Steps to follow
Focus on the central themes or issues arising from your sources of research
This is because you cannot explain all the ideas arising from the sources. These main ideas ought to connect to all your sources. Ensure as you write your masters literature review, you read broadly but selectively
Summarize your ideas and convey the to the readers in a concise manner
A literature review does not necessarily have a thesis statement, however, ensure that you write brief statements that summarize your main idea. For example, "The current trend in technological financial advancements is trading in cryptocurrencies and investing in online accounts.'
Adhere to the basic outline
Literature reviews comprise three key structural components that make the work organized. These are:
Introduction
Gives an overview of the topic and the main idea being relayed in the literature review.
Body
It is characterized by headings and subheadings. Discussions about the ideas arising from the sources are highlighted in this part. The discussions are arranged chronologically.
Structure of the Body
Writing the body of your graduate literature review can be daunting as you often have no idea on how to arrange your ideas in respect to the dating of your sources. At this point, a writer can seek professional services such as All Homework Solutions to ensure that the body is arranged logically. Below are a few tips on how to structure the body;
Chronologically
Literature reviews can be written in order of when the sources were published from the earliest to the current.
Publication year
This is important especially in reviewing historical trends that have taken place over a couple of years as you easily analyze the changes that have taken place over the years.
Method of research used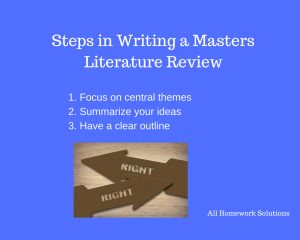 What to Consider
Support all arguments with supporting evidence
All information used that are from other sources should be cited correctly and adequately as per the supervisor's instructions.
Be brief and concise
In a master's literature review ensure you point out the main ideas behind the sources that should be in line with the reviews focus.
Use of quotes
This should be done sparingly and with a go-ahead from your supervisor. Most masters literature reviews have minimal to none use of quotes as it reduces the originality of your work. Paraphrasing comes in handy in avoiding the use of quotes.
Critical thinking
In writing a masters literature review, you have to delve deeper into the analysis of data your collecting as well as raise questions in regards to that.
The use of voice in passing information
In literature reviews as much as you are representing other people's ideas ensure that you as the writer remain at the forefront by starting with your ideas.
Summarize the ideas in a compact manner and utilize your sources to the maximum.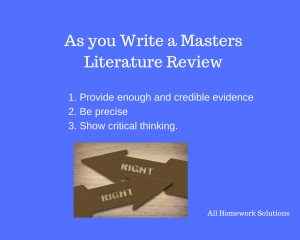 Remember to edit and proofread
A masters literature review needs to be polished up before submission and to avoid all the hustles; writers can seek editing and proofreading skills from us to ensure the final draft is devoid of any spelling, grammar, and punctuation errors.
Besides writing masters literature review, you might be interested in:
How to write a master's dissertation proposal.
The perfect tips for writing a master's dissertation theoretical framework.
How to write a dissertation hypothesis.
Do you need help with this assignment or any other? We got you! Place your order and leave the rest to our experts.