Course Description
Students review and build upon leadership and management principles. Emphasis is placed on understanding the health care system and social forces affecting care delivery, effective leadership, patient outcomes, project management, health care policies, basic accounting principles, and entrepreneurship. Students use evidence-based resources, address health competencies and analyze an identified issue while developing a plan of interventions that incorporates current evidence for management of the identified issue. Students will present their capstone work via a poster or podium presentation. Presentation forums may be at their selected venue, at a professional conference, or conducted virtually.
Course Learning Outcomes
Upon completion of the course, the student will be able to:
Use information and technologies to monitor and provide quality patient care. (PLO 1)
Demonstrate cultural competence in nursing practice. (PLO 2)
Provide competent, evidence-based nursing care. (PLO 3)
Document nursing information and activities in support of safe patient care. (PLO 4)
Speak clearly and concisely in conveying healthcare information. (PLO 5)
Collaborate effectively with healthcare team members. (PLO 6)
Apply empirical research to nursing practice. (PLO 7)
Apply the Code of Ethics for Nurses in professional nursing practice. (PLO 8)
Objectively analyze and evaluate data to inform decision-making in nursing practice. (PLO 9)
Welcome to Capstone in Evidence-Based Professional Nursing Practice
The student will provide a proposal on the approved topic from nurs using Evidence-Based Project in healthcare and their respective community setting. You will develop a protocol supported by evidence, review and critically appraise the literature regarding this topic, and develop a project proposal. The proposal should include the plan for implementation, and evaluation. During week 8, the student will present his/her EBP project and finally, create a poster suitable for presentation at a nursing conference or for publication. The Project must focus on the RN/BSN practice. Please consult your practicing state's Nurse Practice Act. Your project proposal must not focus on interventions carried out by an Advanced Practice Nurse.
Concepts studied during your progression through the RN-BSN program should be clearly integrated into this assignment. This presentation demonstrates your achievement of the outcomes of the Essentials of Baccalaureate Education for Professional Nursing Practice as defined by the American Association of College of Nursing
There are eight modules in this course.
Module 1: Evidence-Based Practice (EBP) topic proposal from the identified health concern (approved topic) in NURS ()
Module 2: Evidence-Based Practice Timeline and Plan ()
Module 3: Literature Review ()
Module 4: Stakeholder Analysis ()
Module 5: Stakeholder Communication ()
Module 6: Evidence-Based Practice Design Paper ()
Evidence-Based Practice Design Paper
Background: Community Health Concern and Identification
Facilitators and Barriers to EBP Implementation
Organizational Culture
Proposal for the next steps to address the identified health concern
Module 7: Evidence-based Practice Presentation, Part I
Presentation in synchronous class session (TBA, Week 7)
Instructor will schedule presentation date and time
Module 8: Evidence-based Practice Poster Presentation, Part II
Poster presentation, voice-narrated powerpoint.
Welcome to Week 2
Week two will focus on development of an evidence-based timeline and plan for the project.  Levels of evidence will be explored. EBP is a problem-solving approach to clinical decision-making within a healthcare organization. It integrates the best available scientific evidence with the best available experiential (patient and practitioner) evidence. EBP considers internal and external influences on practice. EBP encourages critical thinking in the application of evidence to the care of individual patients or population groups.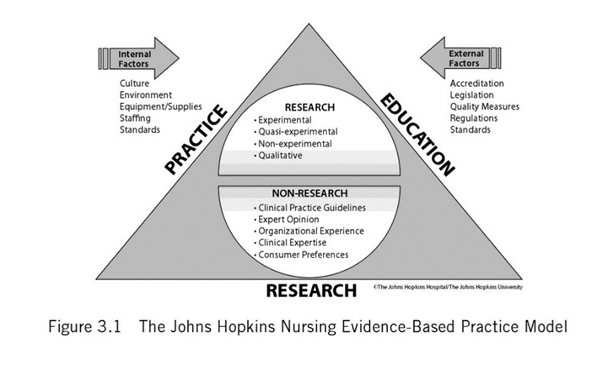 Dearholt, S., Dang, Deborah, & Sigma Theta Tau International. (2012). Johns Hopkins Nursing Evidence-based Practice : Models and Guidelines.
The John Hopkins Evidence-Based Practice Model consists of three steps:
Practice Question – develop practice question
Evidence – search, evaluate, synthesize external and internal evidences.
Translation – create a plan, timeline, outcomes, and disseminate findings.
A project must have a clear plan rather like planning a journey with a map. You will want to know the estimated time and cost. Knowing that you must have an end goal to meet your objectives, a timeline and a plan is crucial in your project proposal.
A project timeline is the chronological steps to the order of your events to meet your objectives or end goal. It is crucial that a timeline is attached to each event. Chronology is the exact order in which events occurs to assist us with the understanding of the cause and effect of those events. Consideration must be given to the past, present, and future.
Past: why and how the events unfolded
Present: what is in progress
Future: what is to be completed
There are several key components to developing a project timeline. We must identify and meet with the stakeholders, set and prioritize goals, define deliverables, create a timeline for each deliverable, identify barriers and complete a risk assessment, and present the project plan to stakeholders.
The steps to the planning process include developing objectives and tasks to meet those objectives. Determine the resources needed and the timeline required for each task. Develop an assessment and tracking tool for the project. Finalize the plan and distribute to stakeholders.
Assignment Prompt
The project schedule is one of the most important tools in creating a successful project (usually after building a good team). To develop a schedule, the team must establish a breakdown of the work and a corresponding execution plan for the work. This is usually an iterative process: the development of each element influences the others. Stated simply, the schedule places detailed activities from the project into their proper sequence, with appropriate relationships, responsible parties, and timelines defined.
The schedule is an integral part of the group project management. It is integrated with resources, scope, and quality requirements to produce a virtual model of the project execution plan to guide the work and reflect progress and performance through the life of the project. Initial development of the timeline, plan, and detailed activities usually precede initial development of the project schedule. However, the integrated nature of these components makes the development of each piece an iterative and interdependent process.
The schedule serves as a management reporting tool as well as an implementation tool to help get the work done on time. The schedule contains activity durations, interdependencies, and constraints that help to identify conflicts and bottlenecks. When completed, the schedule produces a realistic and achievable timetable for executing the work, given the real-world constraints and limitations. The timeline and plan is one of the most important tools in managing the project.
Examples of Project Timelines and Templates: (Optional)
Asana
Project Timeline Tools
39+ Free Timeline Templates
Directions:
Refer to your chosen project timeline.
Create a timeline for your capstone project (Choose a timeline or template linked above or design one that works for you. Consider creating your document in Google docs or Google sheets.
Your timeline should include:

Project topic identification

Identification of three scholarly article citations that support this topic

Components of the project with planned completion date

Dates/times/method or location of meetings (as needed)

Date of timeline and plan approval by faculty (faculty approval is required)
Create and work on this assignment in Google Sheets or Google Doc that you "share" with the faculty. Also save the final copy as an Excel Spreadsheet or Word Doc and submit via the assignment link.
Do you need help with this assignment or any other? We got you! Place your order and leave the rest to our experts.